OVERVIEW
We are
College of Engineering
1980
CoE was founded
The aims of College of Engineering (CoE) are to nurture hi-tech engineering talent and strengthen research and development. After years of development, the CoE now comprises the Department of Electrical Engineering (EE), Department of Mechanical and Electro-Mechanical Engineering (MEM), Department of Computer Science and Engineering (CSE), Department of Materials and Optoelectronic Science (MOES), Department of Photonics (DOP), Institute of Environmental Engineering (IEE), and Institute of Communications Engineering (ICE), and the newly established Institute of Integrated Circuit Design (IICD). Each department offers bachelor's, master's and doctoral programs; however, post-graduate programs are only provided by the institutes. The departments of Electrical Engineering and Mechanical and Electro-Mechanical Engineering recruit about 110 undergraduate students annually. To integrate academic researches in coordination with the Tainan and Kaohsiung Science Parks, the CoE has established a research-oriented center : Engineering Technology Research & Promotion Center. The center is in charge of conducting cooperations with industry and providing technical consultation to fulfill the responsibilities and obligations of National Sun Yat-sen University (NSYSU) for southern Taiwan. In 2006, the CoE launched an International Master's Program in Electrical Power Engineering (IMEPE) in response to an invitation from International Cooperation and Development Fund, Ministry of Foreign Affairs. An International Master's Program in Telecommunication Engineering (IMPTE) was also established in 2014. All the courses in both International Master's Programs are taught in English to attract international students all over the world.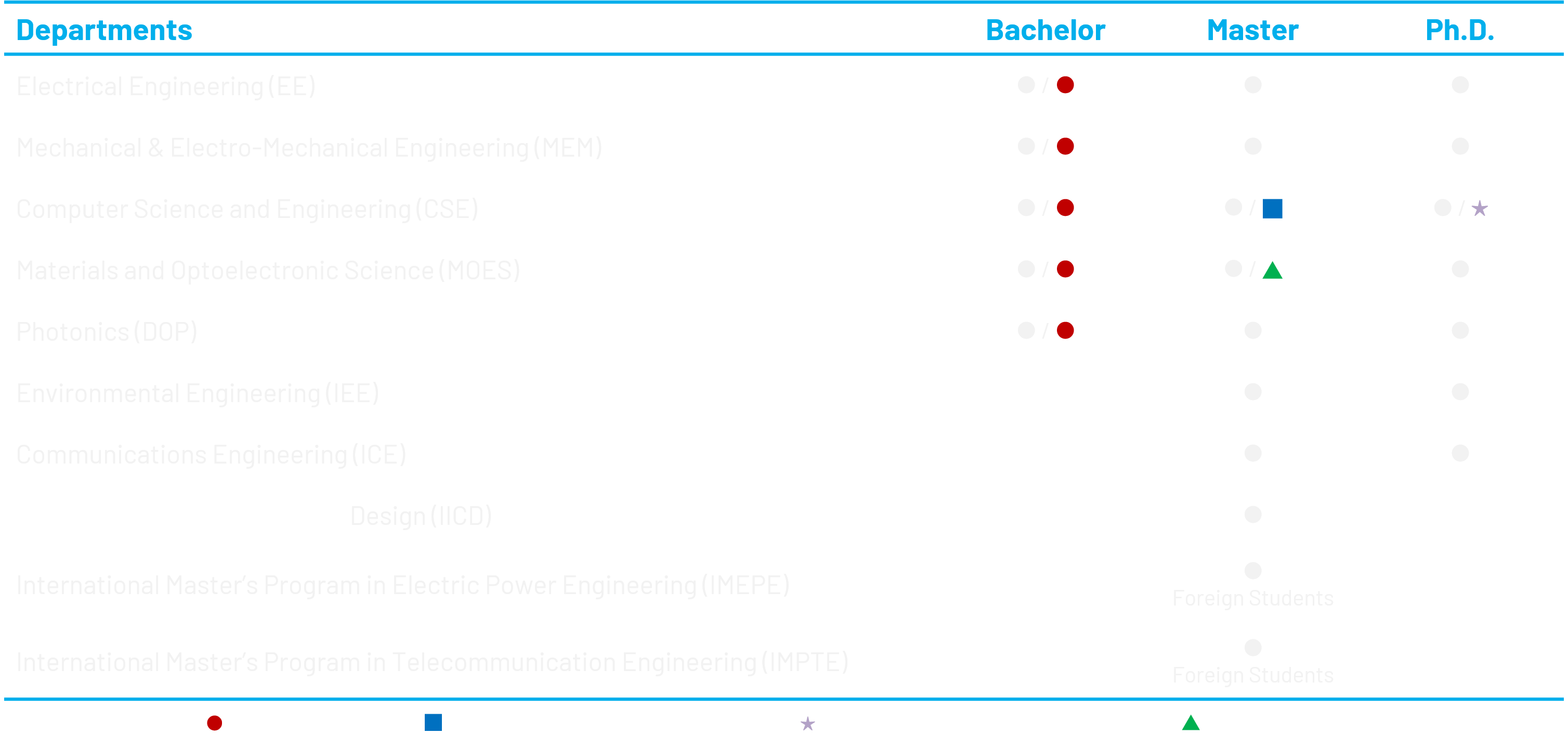 100+
English-taught courses each semester
In addition, students are encouraged to take elective English-taught courses offered by other colleges.
Farjam's daily life at NSYSU CoE
The current research areas include
Electrical Power and Control
Applied Computer Science and AIoT
Polymer Materials and Optoelectronic Science
Photonic Materials and Components
Optical Communication and Optical Information
Display and Alternative Energy
Energy Technology and Environmental Engineering
Communication system technology and Radio wave and wireless communication applications
Our Objectives
Cultivate artistic, moral, creative, well-rounded, and sophisticated engineering talents to meet the challenges of our time.
In 2023
134
Faculty Members
4
Non Tenure-track Faculty
33
Staff
3,290
Students
1,614
Undergraduate students
Timeline